Photos (10)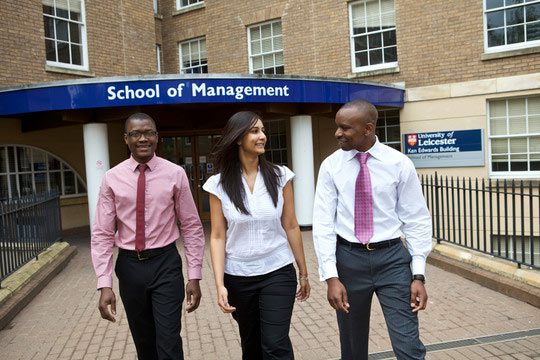 Testimonials
Tim Goudie - MBA
Tim Goudie has imparted a whole new dimension to the concept of studying by distance learning. Having registered for a University of Leicester MBA course, his first exam was written in Los Angeles while on business with Neutrogena, his last was taken in Toronto while working for Pillsbury and the majority were written in Dubai while working for Johnson & Johnson (Middle East) Inc. His dissertation was also written in Toronto, but by that time Tim was working for Coca-Cola, his current employers. It is, he says, a "truly global MBA".

A South African by birth, with a love of rugby, ice hockey, paragliding, surfing and the outdoors, generally, his first degree was from the University of Cape Town. Tim first decided to take an MBA in Dubai, in the knowledge that he would shortly be emigrating to North America. "I felt I would need an MBA to compete in the job market there," he said. "I also wanted the opportunity to consolidate my work and academic experience and to improve my career prospects."

Marketing was Tim's chosen career from the time he first graduated, and he has enjoyed the "constant learning curve of applying the same brand marketing principles in different countries on different brands around the world." He feels the Leicester MBA gave him a greater understanding of how the different functions within a company interact and allowed him to compete on an even footing with his peers in North America.

However, following a distance learning programme while working demanded disciplined planning for study, though he feels it also allowed him flexibility and mobility as he worked and lived around the world. He said: "My wife was extremely understanding and supportive. She made many sacrifices in order to give me the time to study. Full credit to her." As a newly-fledged father, Tim added: "My six-week-old son Nicholas is a delight but demanding. A hint to prospective students - get your MBA done before considering babies. We managed to do that. I wouldn't know how anyone could manage otherwise."

The local resource centre in Dubai helped enormously, and Tim is unstinting in his praise of the centre where he not only found great support from staff but was also able to keep in touch with fellow Leicester MBA students. "My very special thanks go to Stafford Associates, the local resource centre in Dubai. Without their support, enthusiasm and encouragement I would never have completed my MBA. I will always be in debt to them for that support," he said.

Tim Goudie graduated with an MBA from the University of Leicester in 2000. He has recently re-located, to Coca-Cola Atlanta and now works for the World Wide Sports Marketing Department, as the NBA/Emerging Properties Manager, with responsibility for the NBA and Emerging Sports for all countries outside North America, for whom he also acts as brand consultant for Sprite.
Weijia Wang (Christina) - MSc in Finance
I came to Leicester in 2002 to study MSc in Finance at the School of Management. Prior to my coming to Leicester, I had never been to Europe before. Everything I met there presented a fresh perspective for me; such as life style, study methods, people from different background, language, food etc. Of course, I met a number of difficulties when I just arrived in Leicester, but fortunately, I made lots of new friends in Leicester and I found that the people I met in Leicester were very friendly and easy to get along with.

Before I came to Leicester to study Finance, I had just got a Bachelor degree in Engineering. However, I didn't want to develop my future career in Engineering, so I took the very good opportunity to come to Leicester to study Finance. The degree that I got from The University of Leicester did help me a lot when I was looking for a job on my return to China. As a student with overseas study background, I found that looking for a job became much easier. Compared with the students without such experience, I have a much better grasp of oral English and more familiarity to the world outside China, especially UK. I also became more competitive after the degree I got from the University of Leicester.

The course structure of the MSc in Finance programme was quite special. The course not only taught advanced finance but also established the rudiments of finance. Lots of my classmates were from Engineering, mathematics or other field, including myself. The lecturers were very helpful and of high academic standards, they were highly devoted to their teaching career. Indeed, I found the University of Leicester to be a very good place to study. When I was studying in Leicester, I always felt very calm and focused. There were lots of societies to help when one needed help daily life and a number of offices rendering all kinds of services to students. For example, there are lots of advertisements of accommodation in student union and leaflets on how to find good accommodation. Also, I found the Career Office was very helpful when I was looking for a job.

Although I am now back in China, the time spent in Leicester is still very much in the memory. The life in Leicester was extremely interesting indeed. I had made lots of friends when I was in Leicester, I got lots of help from my friends, I attended lots of activities, which were organized by the student union, such as fashion show, travels and so on. I did take the chance traveling lots of places, including London, York and the likes. All in all, the life in Leicester was very colourful; it was such a wonderful journey and it holds particularly fond memories.
Jack Mizzi - MSc in Marketing
Jack Mizzi is currently responsible for Marketing and Wholesale Services at DataStream Limited, Malta's largest broadband and data services provider and part of Maltacom plc.

He was one of a team who launched broadband internet in Malta and in 2004 took on the conceptualisation, development and launch of the highly successful pay-per-use ADSL Internet product.

In the past, Jack has introduced and launched several telecommunication services on a national scale. He has also been responsible for the planning, management and organisation of national events, such as the Malta Web Awards.

In July 2001 he took a step that he sees as an investment in his future, equipping him with the potential for greater career choices. Jack enrolled with the University of Leicester School of Management to take an MSc in Marketing by distance learning.

Jack had considered the Leicester School of Management following the recommendation of a colleague who had been satisfied with the degree she was taking at the time, and after checking out the syllabus for himself, he applied and was accepted for the course.

Speaking of the Masters course, Jack said: "Overall the degree provided good challenges, with a mix of theory and application of such theories in practice. It also provided the opportunity to link the teaching to my work, thus enabling me to apply what I learned to real life."

Distance learning is a way of studying that is flexible enough to combine with full-time working. However, it does demand a certain amount of self-discipline, as Jack found out. "The work-study relationship proved to be difficult in view of my long working hours, as well as family commitments. The only solution was to preset a dedicated time daily to study (usually after 9pm!)."

"The feeling of working alone was noticeable at times, especially since my two previous degrees were campus-based. The School of Management web-board provided good contact with staff and, to a lesser extent, students, and for academic feedback it proved a good medium of communication."

Jack Mizzi's results speak for themselves. He was highly successful, and not only achieved a distinction for his degree, but was awarded the title of "Best Specialised Masters Student".